--THIS SECTION IS THE PULL DOWN MENU--/> --THIS SECTION IS THE KEY PAGE--/>
Entries for this year's race on 16-17th September are now closed. If you have had your application accepted please ensure that you have completed the race entry form
here
and paid your entry fee. If you have any queries about this year's race arrangements or the course please contact the race director at
nevilleknights@tiscali.co.uk
or RNR admin at
admin@roundnorfolkrelay.com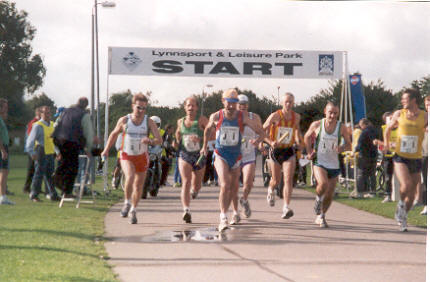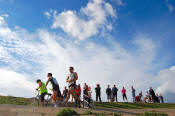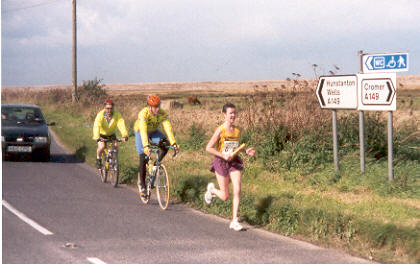 The course of the Round Norfolk Relay mirrors the county boundary over a distance of 198 miles, divided into 17 unequal stages. Norfolk's enormous skies, vast sandy beaches, open spaces and picturesque towns and villages, with their attractive cottages and medieval churches, all contribute to making the race a unique running experience. But it is likely to be the spectacular skies at sunset and sunrise which will provide the most vivid memories.
The race starts at Lynnsport in Kings Lynn and then, from Hunstanton, follows the stunning coastline through 5 multi terrain stages taking the Norfolk Coastal path as far as Cromer. The 35 miles (4 stages) from Cromer to Great Yarmouth are on the road. By the time the majority of teams reach Great Yarmouth it is dark.
From Great Yarmouth, the course turns south-west following main roads for 67 miles (4 stages), all run in darkness. It is during these mostly flat stages through Breckland that the time stagger unwinds and the race is invariably won or lost. From Feltwell (Stage 14) the four remaining stages covering the last 33 miles are run across the flat Fens through the early morning mist. Finally, following Great Ouse River into historic King's Lynn runners passby the old Custom house, through the famous Tuesday Market Place and then on to the Finish at Lynnsport.
Unique in character and concept, the race presents not only a tough physical challenge, but also a test of the organizational prowess of a club. Run over 24 hours, without a break (and carrying a baton), the event is much more than just a normal relay for it requires special preparation, planning and support. It is not an event for a club without a spirit of adventure. But the sense of satisfaction and achievement after completing the race is simply 'Second to None'.
A staggered start, based on anticipated finishing times, ensures that teams of similar ability start together, with faster teams chasing. If the stagger works, all teams should finish the race by 9:15am to 10:00am on the Sunday. With the first teams starting at 5:30 am on Saturday this allows for teams running an average of 8mins 40secs per mile throughout the course.
Recent updates

Entries for this year's race on 16-17th September are now closed. You can check out the list of teams entered
here
__________________________
The Sandringham estate recee dates for stage 1 have been agreed for Sundays 3rd and 10th September between the hours of 08:00am and 11:00am.
__________________________
Thanks to those entered the photocomp. You can view some great images
here
.
__________________________
Are you eligible for a 10/20 year appearance award? You can check your your stats by visiting the
all time appearances page
.
__________________________
Check out the details of the new stage 9/10 changeover at here Belton
stage 9
and here
stage 10
.