--THIS SECTION IS THE PULL DOWN MENU--/> --THIS SECTION IS THE KEY PAGE--/>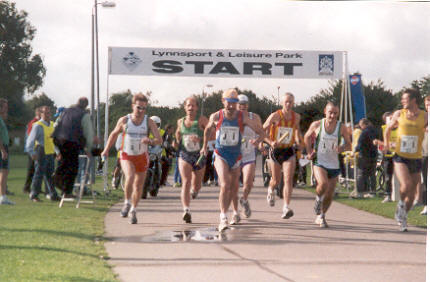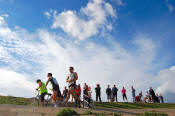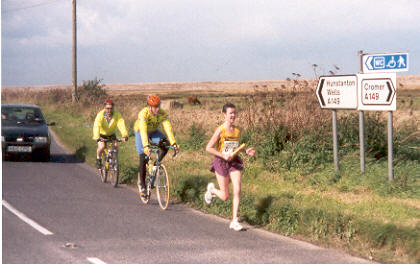 Round Norfolk Relay 1987 - 2018 ......RIP?
2018 will celebrate the 32nd running of the Round Norfolk Relay. From it's inaugural running in 1987 when just one team, Ryston Runners, circumnavigated the boundary of Nelson's county, the race has grown to its current iconic status where upwards of 60 teams and a thousand runners, supported by cyclists, support vehicles, timekeepers, friends and supporters, spend a weekend speeding around the outskirts of Norfolk.
Over the years of it's running, the RNR has become the premier event in the Norfolk road running calendar, and something once done, never forgotten.
Whilst it's very easy and possibly a bit complacent, just to assume that come the third weekend in September we'll all get our annual RNR fix, it's worthwhile bearing in mind that the event doesn't just spontaneously happen by itself. Team coordinators select teams, deal with injuries, plan transport, juggle with support vehicles, cyclists etc, and endeavour to ensure that stage runners are in the right place at the right time ... no mean feat that!
If you think that getting the show on the road is an effort for race coordinators, just take a moment to consider the effort that goes in to keeping that show on the road year after year...planning the race, juggling course changes, ensuring that facilities are in place, marshalls are manning every changeover, the course is adequately marked and documented, and the safety of runners is preserved.
Sadly this may all be coming to an end, as the handfull of stalwarts who take on this task has been gradually dwindling, to the extent that there is currently no safety officer or course manager, and our race director, Neville Knights, the stalwart's stalwart and driving force behind the race is standing down after the 2018 race.
More precisely, if the RNR is to continue then we need a new race director in place by November 2018, ideally someone who has been able to shadow Neville in the run up to the 2018 race, together with an assistant race director to ease the burden previously carried on Neville's broad shoulders. In addition, to secure the integrity of the course and the safety of our runners, we have to have a course manager and a safety officer - we can't carry on winging it with these important positions not being filled.
So there you have it - thirty two years of running, sixteen thousand runners and getting on for 194,000 miles covered. Is that it, or is there anyone out there who thinks that this wondrous endeavour is worthwhile preserving?
Thats our call to arms: are there any heroes out there to carry the torch or wise people to help us keep it burning? If not, then all that will remain of the RNR are a few imprints on the ground - a mere trace of the hundreds of thousands of strides that have covered the outskirts of Norfolk since 1987.
Recent updates

Race director, Neville Knights has cast his eye over this years's proceedings. You can read his race directors report
here
__________________________
Many thanks to those who submitted entries for this year's photo competition. You can check out their images
here
The judges are currently in a huddle deciding the winners.
__________________________
Race Director Neville Knights has published an analysis of team risk considerations.This relates to all stages on the RNR route. This is essential reading for all race participants. Read and download this
here
__________________________
Introduction of online stage times submission. For more details check out the
help sheet
or try it for yourself
here
.
__________________________
The race finishing time has been amended to allow a maximum team running time of 29:30 hours. For more details check out the
news page
__________________________
The interim point at which the top copy of the timesheet is to be handed in is now at Lessingham (the end of stage 7)
__________________________
Are you eligible for a 10/20 year appearance award? You can check your your stats by visiting the
all time appearances page
.